COMPANY PROFILE
International Cranes established in 1996. We have working space of 45000 sq.ft. In this short period we are one of the prestigious name in material handling equipment industry. We manufactured E.O.T Cranes for light and heavy industry i:e steel plants, paper plants, sugar mills engineering industry, woolen mill and in work shop. Company started export in 2004. We also manufactured lifts i:e Passenger lifts, Goods, Hospital, Vehicle Lifts and dumbwaiters under the brand name IYCEE. Company believe in Quality. It manufactured goods as per IS standards under strict supervision for better Performance, Service after sales is our Products. we have been scaling new heights of success. Today, we are counted among the Mfrs & Exporters of E.O.T. Cranes. we have been providing high quality Service. Installation of advanced technology Cranes and equipment in the infrastructural base assures the development of high performances products within the timeframe.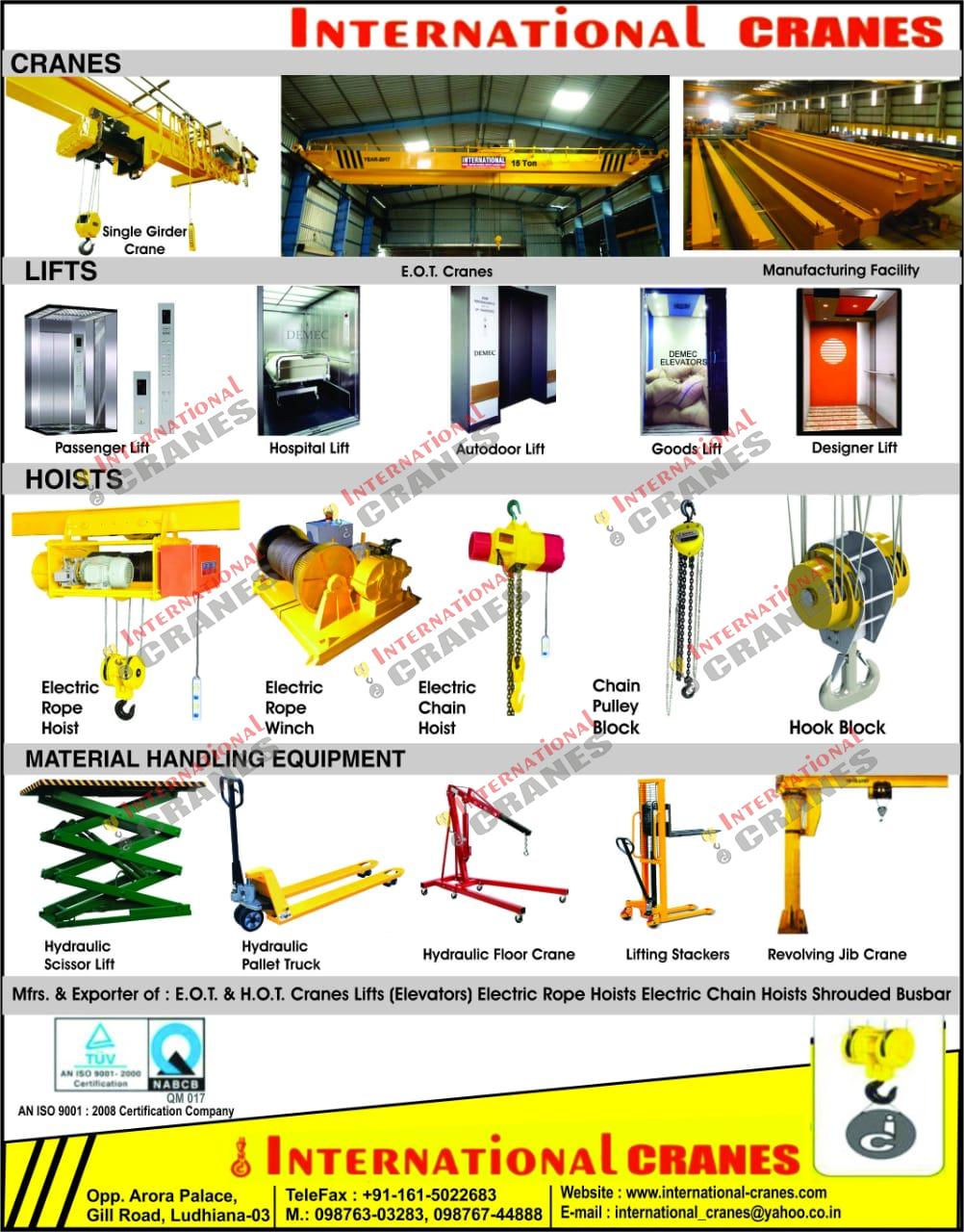 OUR PRODUCT RANGE
International Cranes is manufacturer & exporter of Cranes , Electric Hoists, Lifts & material handling equipment in Ludhiana, Punjab, India. We have wide range of products as per customer demand.
International electrically operator wire rope hoist is a simple but safe hoisting machine. It is perfectly machined and assembled to ensure safe reliable and trouble free service for years. The product is widely recognized by the industry for its performance . It is compact and cost effective and has been designed keeping in view the customer needs. Optimum use of electrical energy has been taken into account for achieving speeds with liberal margins for voltage fluctuations. Ambient temperature, gear efficiency etc. International Cranes is a progressive concern, bringing forth a wide range of hi-tech machinery and related accessories. Incorporating the best of technology and concise methodologies, we manufacture, export and supply the following machines and accessories.